Darn That 'Unyielding Partisanship' Making 'Centrist' Dem Evan Bayh Retire
Reporter Adam Nagourney nodded along to the Democratic-friendly idea that "centrist" Democratic Sen. Evan Bayh's retirement was about "unyielding partisanship" in Congress, not the grim prospects for the party in 2010.
Published: 2/16/2010 1:50 PM ET

Democratic Sen. Evan Bayh of Indiana shocked Washington by announcing his retirement on Monday. But the obvious message: Bad news for the Democratic Party in 2010 - had to compete in Adam Nagourney's Tuesday A1 coverage with the more Democratic-friendly idea that the "centrist" Bayh had quit in disgust over the current dysfunctional state of government, "frozen by partisan politics and incapable of passing even basic legislation." (How far the Democratic opinion of Washington has fallen since Obama's 2008 election!)

The headline at least summed things up accurately: "Democrats Reel As Senator Says No to 3rd Term." But reporter Nagourney nodded along with Bayh's boilerplate about how current Washington politics had become dysfunctional. Text box: "A senator bemoans an increase in partisanship."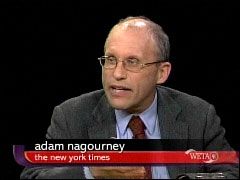 Senator Evan Bayh of Indiana announced on Monday that he would not seek re-election, sending a wave of distress over his fellow Democrats and focusing new attention on the view that unyielding partisanship had left Congress all but paralyzed.

Mr. Bayh, a centrist and the son of a former senator, used the announcement that he would not seek a third term to lambaste a Senate that he described as frozen by partisan politics and incapable of passing even basic legislation.

"For some time, I have had a growing conviction that Congress is not operating as it should," Mr. Bayh said. "There is too much partisanship and not enough progress - too much narrow ideology and not enough practical problem-solving. Even at a time of enormous challenge, the people's business is not being done."

Mr. Bayh's decision staggered Democrats. It was the latest in a series of setbacks that illustrate just how far the party's fortunes have fallen since President Obama came to office more than a year ago, sweeping big majorities into the House and Senate with him. Mr. Bayh stepped aside despite personal entreaties from Mr. Obama and his chief of staff, Rahm Emanuel, White House officials said.

Mr. Bayh was on the short list of candidates Mr. Obama considered for vice president before settling on Joseph R. Biden Jr. He was among the most prominent of moderate Democrats in Congress, but has been increasingly isolated over the past year as he has warned Democratic Congressional leaders that the push for big-ticket and expensive legislation was scaring off independent voters.

Although Indiana is considered a Republican-leaning state, Mr. Obama won it in 2008, and Mr. Bayh, 54, who served two terms as governor and won election to the Senate with more than 60 percent of the vote in each of his races, appeared to be in a good position to win a third term. His retirement greatly increases the chances of a Republican victory there, analysts from both parties said.
Actually, as my MRC colleague Kyle Drennen pointed out, Bayh was far from a lock:


A January 25 Rasmussen poll showed Bayh losing to Republican Congressman Mike Pence, 44% to 47%. While Pence has since decided against running, the poll also showed former Republican Congressman John Stutzman, who has formerly announced his candidacy, getting close at 41% to Bayh's 44%. Numbers like that certainly do not suggest Bayh's reelection was anywhere close to being "a lock."

Nagourney continued with this odd passage:


Even after the loss last month of the seat that had been held by Senator Edward M. Kennedy of Massachusetts, Democrats control the Senate by a margin of 59 to 41, leaving Republicans still facing long odds in their effort to win a majority. And Mr. Bayh, in an interview, argued that Democrats could hold on to his seat, noting that Republicans face a contested primary.

It's strange for Nagourney to insist the GOP is "still facing long odds in their effort to win a majority," given that a Republican takeover of the Senate would have been considered impossible just four months ago.


What was most striking about Mr. Bayh's announcement was the deep disillusionment he expressed with his place of employment, a feeling reflected in recent polls. In a New York Times/CBS News poll last week, 75 percent of respondents said they disapproved of the job Congress was doing; just 8 percent said members of Congress deserved re-election. Mr. Bayh pointed to the partisan standoff over efforts to create a commission to address the mounting national debt. Republicans blocked an effort pushed by Mr. Obama to create a bipartisan commission by legislation, with seven Republicans who had co-sponsored such an approach announcing they would vote against it.
In an interview, Mr. Bayh said he was startled at how much the Senate had changed since he arrived in 1998, and even more since his father, Birch Bayh, served in the Senate, from 1963 to 1981.

"This is colored by having observed the Senate in my father's day," Mr. Bayh said. "It wasn't perfect; they had politics back then, too. But there was much more friendship across the aisles, and there was a greater willingness to put politics aside for the welfare of the country. I just don't see that now."

A Times headline writer followed Nagourney and the rest of the media in misleadingly calling Bayh a "centrist" in a jump-page headline: "Democrats Reel as Centrist Senator Says No to a 3rd Term." Bayh, while not as liberal as many of his colleagues, is certainly no "centrist": His American Conservative Union rating is 21 out of a possible 100.