CBS: Gulf Oil Spill An 'Opportunity' to Push Green Energy on 'Power-Hungry' America
Published: 8/17/2010 3:16 PM ET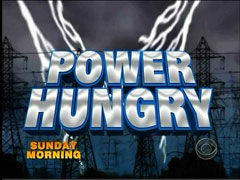 At the top of CBS's Sunday Morning, host Charles Osgood proclaimed: "From sky-high air-conditioning bills to gasoline-fueled vacations in the car, there's nothing like summer to remind us that we Americans are power hungry." In the story that followed later, correspondent Seth Doane declared: "In the wake of the Gulf oil disaster, calls for cleaner, greener energy, are growing louder."

Doane lamented: "America is still powered by the energy of yesterday. 95% of our electricity comes from an aging network of coal, natural gas, nuclear, and hydroelectric plants. Despite decades of promise, today less than 5% of our electricity comes from all other forms of alternative energy combined." He then turned to "Nobel Prize-winning physicist" and Obama administration energy secretary, Dr. Steven Chu: "Secretary Chu sees the oil spill as a tragedy, of course, but also as something else." Chu argued: "The United States has an opportunity to lead in what I consider to be essentially a new industrial revolution."

After detailing different forms of alternative energy, Doane moved on to liberal advocacy. He warned:"But agreeing on a national energy policy won't be easy....And the coal and petroleum lobbies spend millions to protect the status quo." Doane then cited the head of the left-wing group Environmental Defense Fund, Fred Krupp, who whined: "You know, we've passed three energy bills in the last ten years and none of them has done a damn thing to get us a brighter energy future."