NBC's Morales Gets Caught Up in Obama Olympic Charm Offensive
Published: 10/1/2009 12:24 PM ET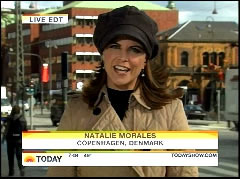 NBC's Natalie Morales, on Wednesday's Today, was bowled over by the First Couple's "tag-teaming" effort to lure the Olympics to their home city of Chicago. Reporting live from Copenhagen, Morales cheered that "it doesn't get any better in terms of PR blitzes than this," and effused the First Lady was "turning on the charm, as only she can."

Today co-anchor Matt Lauer introduced the segment touting the "star-studded campaign" led by the Obamas and Oprah Winfrey, as Morales called that combo a "one, two, three punch" that would require "a secret weapon," for the likes of other competing countries, like Brazil and Japan, to counter. Morales ended her report noting "the glitz will be on once again in full," as the First Lady is expected appear at a gala, that Morales giddily wished to attend: "I'm hoping I get a red carpet ticket today, at least, for that event."

The following segment was aired on the October 1, Today show:


MATT LAUER: On a much lighter note, we turn now to the star-studded campaign to bring the 2016 Olympic games to Chicago. President Obama heads to Copenhagen, Denmark, later today. He will join his wife and some other heavy hitters who are already there pushing for the Windy City. "Today's" national correspondent Natalie Morales is also in Copenhagen. Natalie, good morning to you.

NATALIE MORALES: And good morning to you, Matt. You know, it doesn't get any better in terms of PR blitzes than this. The President and First Lady tag-teaming here to help boost Chicago's chances for that Olympic bid, and it looks like it may be working. The red carpet is out in Copenhagen, ready to greet the world's power players, a full-on ground invasion to try and gain those crucial votes in the close race between host city hopefuls Chicago, Rio, Tokyo and Madrid. First to arrive for Chicago, Michelle Obama-

MICHELLE OBAMA: Chicago is a wonderful host city, great people, great facilities. It knows about sports. And the hospitality is like no other, and it's a city that works really well.

MORALES: -turning on the charm, as only she can, with the voting members of the International Olympic Committee.

MICHELLE OBAMA: I'm gonna go talk to some voters.

MORALES: The other "O" in town - Oprah.

OPRAH WINFREY: I love this city! This city has given, it really gave birth and life to me. I mean my, my greatest successes came from this city.

UNIDENTIFIED REPORTER: Barack Obama, he's the key partner?

WINFREY: Oh he's our team captain.

REPORTER: Yes?

WINFREY: Yes.

MORALES: President Obama will only be on the ground in Copenhagen for all of four hours Friday.

BARACK OBAMA: I'll sleep on the plane, I'll land, I'll speak, then I'll fly right back.

MORALES: Long enough, though, to make what will be the final campaign speech for Chicago. Odds-makers in London are betting on Chicago as the favorite.

ROBIN HUTCHINSON, LADBROKES BOOKMAKERS: It looks like a two-horse race as far as we're concerned, and Chicago just the favorites at the moment.

MORALES: Also vying for top billing, Brazil's Rio de Janeiro, already a major tourist destination. President Lula da Silva arriving to make his case that Rio is ready to shine with its booming economy. Geography plays in its favor, a point soccer star Pele is here to make.

PELE: ...Chicago, but we never have it in South America.

MORALES: Madrid and Tokyo are also bringing their top guns. King Juan Carlos of Spain and the newly elected prime minister of Japan, Yukio Hatoyama. But that may still not be enough. What's their secret weapon to beat out the Obamas?

YUKIO HATOYAMA THROUGH TRANSLATOR: I can't tell you.

UNIDENTIFIED MAN: The Obama factor is very important in this race. Chicago, are they guaranteed to win with Obama there? No, definitely not, but the chances are much greater now.

MORALES: It will be a one, two, three punch. Michelle, Oprah, with President Obama hoping to seal the deal. And I can tell you, the First Lady has already been very hard at work today meeting with the IOC president as well as voting members, trying to sway their votes, perhaps. But later tonight the glitz will be on once again in full, as she's expected to attend a reception, at a gala reception tonight at the opera house. Matt?

LAUER: Are you gonna stick around, Natalie? Will we see you there tomorrow?

MORALES: Absolutely. I'm hoping I get a red carpet ticket today, at least, for that event.

LAUER: Alright, good luck. We'll check in with you in 24 hours as the world waits to find out this news.

MEREDITH VIEIRA: Yeah, it's a real fight there.
-Geoffrey Dickens is the senior news analyst at the Media Research Center.