Networks Trumpet News of 'Christian' Killer, But Balked Over Labeling Muslim Violence
Published: 7/25/2011 12:39 PM ET

The three major networks trumpeted the news this weekend that the man behind a mass shooting spree in Norway is also a Christian, highlighting the fact in eight different programs from Saturday through Monday.
The Sunday, July 24 New York Times used page one to declare, "As Horrors Emerge, Norway Charges Christian Extremist." Yet, these same journalistic outlets were far more reticent to identify the religion of past Islamic killers.

On Saturday's Good morning America, ABC's Miguel Marquez trumpeted, "Police have identified the shooter as a 32-year-old Norwegian and Christian fundamentalist." He made sure to note Anders Breivik's "right-wing" and "anti-Muslim" views.
On Saturday's World News, ABC's Pierre Thomas informed, "His ideology? Religious conservative." A screen shot of Breivik's Facebook page read "Christian." Martin Fletcher on Saturday's Today freely related that the website illuminated the fact that "he's conservative...he's Christian."
Breivik has been charged with going on a shooting rampage in Oslo, Norway. The death toll is currently in the mid-70s.
There are a number of examples, however, where journalists weren't quite so interested in a killer's religion.
In June of 2011, when Muslim Yonathan Melaku was caught in Arlington Cemetery with suspicious material and a notebook praising the Taliban, the networks him simply as "the suspect," "a 22-year old Ethiopian American' and a 'lone wolf.'

On November 05, 2009, CBS' Evening News and NBC's Nightly News both failed to identify Fort Hood shooter Nidal Hasan as a member of Islam.

The morning shows on November 6 did note Hasan's faith, but on GMA, then-host Diane Sawyer worried, "We heard Martha Raddatz say last night that the wife of a soldier said 'I wish his name had been Smith,' so no one would have a reflexive question about [a religious motive]."

This is an often repeated theme in the wake of extremist Islamic violence. Appearing on the May 04, 2010 Stephanie Miller radio show to talk about the Times Square bombing, MSNBC anchor Contessa Brewer fretted, "I get frustrated...There was part of me that was hoping this was not going to be anybody with ties to any kind of Islamic country."

Thus far, network hosts have not worried about how Breivik's Christianity could negatively impact members of that religion.

The networks, on June 2, 2009, spiked the information that it was a Muslim convert who shot to Army privates outside a Little Rock Arkansas recruiting office.


In total, Breivik's Christianity was mentioned on Saturday's Good Morning America and World News, as well as the Saturday, Sunday and Monday editions of Today. It was also highlighted on Saturday's Nightly News and that day's Early Show on CBS, as well as Monday's episode.

A sampling of some of the Christian labeling, which aired from Saturday, July 23 through Monday July 25, can be found below:
GMA
07/23/11
7:04

MIGUEL MARZUEZ: Police have identified the shooter as a 32-year-old Norwegian and Christian fundamentalist. State television has identified him as Anders Behring Breivik. Online, he expressed right-wing and anti-Muslim views. Initially, law enforcement worldwide suspected Islamic terrorists of carrying out this attack.


World News
07/23/11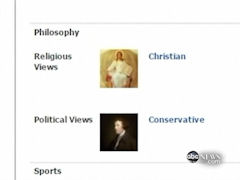 PIERRE THOMAS: His ideology? Religious conservative. [onscreen shot of his Facebook profile reading "Christian."]

Early Show
07/25/11

CHRIS WRAGGE (on-camera): This morning, the man who admits to killing 93 people in those attacks, saying he wanted to start a revolution to defend traditional Christian values, is in court behind closed doors.

Jeff Glor is in Oslo, Norway's capital, with the very latest.

GLOR: Anders Behring Breivik was looking for another chance to spread his radical views around the world today. His lawyer says he wanted today's hearing in Oslo televised live. But the court said no, that it would be a closed hearing.

GLOR (voice-over): In Norway's capital, at midday, a poignant moment of silence: the country's leaders lined together, Norwegians watching and processing, as chilling new information from Anders Behring Breivik emerges. Breivik's manifesto, lifted in part from writings of the Unabomber, Ted Kaczynski, says he began planning his twin terror attacks all the way back in 2002- his actions spurred by a deep hatred of immigrants and Muslim extremism. A video he made called for a European revolution, a revival of a white Christian land.

Today
07/23/11
MARTIN FLETCHER: He's Norwegian. He wrote on his own facebook page. He's conservative, that he's Christian.
— Scott Whitlock is the senior news analyst for the Media Research Center. Click here to follow him on Twitter.