The New York Times Remembers the 'Good Life' for Many in the 'Socialist State' of East Germany
Published: 10/1/2010 3:43 PM ET

It's liberal media habit to see the softer side of former Communist regimes. In his Friday report from Erfurt, a town in the former East Germany, New York Times reporter Michael Slackman wrote with nostalgia on the disillusionment felt by some after German reunification and of the "values - forged in a socialist state" that many East Germans felt were being "delegitimized." ("For Some Germans, Unity Is Still a Work in Progress.")


Yet no one here is whitewashing the disappointment, the sense even now, two decades later, of feeling treated as immigrants in their own country, of the deeply insulting perception that their values - forged in a socialist state - were expunged and delegitimized. No one forgets that some of the former states are struggling financially and still losing population, and that 30 percent of the jobs in the east vanished with reunification.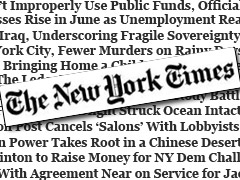 Well, that's economics and human nature for you. Plus West Germany was a Communist state, not a "socialist state." You didn't get a vote on things.
"There is an East German identity, yes, but it must be," said Ms. Kummer's close friend Katrin Fromm, 44, a surgical nurse in Erfurt. "It was my life; you cannot just say the East is out."

When the wall came down, Ms. Kummer, 52, and Ms. Fromm stayed in Erfurt, while many of their friends and relatives left. They were both single mothers, part of the in-between generation. The young could build new lives. The elderly received decent pensions. The in-betweeners had been weaned on the Communist state, but were then asked to succeed in an entirely new system.

Slackman quoted Kummer commenting on how not all was bad under the Communist dictatorship.


"Yes, it was a dictatorship, a state of injustice, no freedom, but there were 17 million different lives," said Ms. Kummer, who forged a successful career as a reporter for The Thuringer Allgemeine daily newspaper.

"For many, it was a good life," she said. "You can't just forget that."


The Times appreciated Kummer's statement so much they inserted it into a photo caption featuring Kummer and her friend Fromm.

- Clay Waters is director of Times Watch. You can follow him on Twitter.