NY Times Covers for Pro-Rationing Dr. Donald Berwick and His 'Extensive Real World Experience'
Published: 7/27/2010 4:56 PM ET

Dr. Donald Berwick, the new chief of Medicare and Medicaid, was installed by the White House without the traditional Senate confirmation vote, thus enabling him to duck questions about his enthusiasm for British-style health-care rationing.

New York Times health reporter Robert Pear sounded eager to help Berwick dispel his image as a cold-blooded ivory tower intellectual, vouching for Berwick's "extensive real world experience" in the lead paragraph of his Tuesday story, "Settling Down to a New Job, but Hampered by Old Words."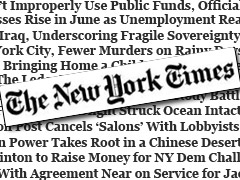 That headline implied that Berwick's views were some youthful indiscretion, but they haven't altered. The text box pointed the finger at unreasonable politicians, not Obama's disrespectful decision: "Obama's new health official faces hostility from some senators."


Unlike many other health policy experts, Dr. Donald M. Berwick, the new chief of Medicare and Medicaid, has extensive real world experience.

As co-founder of the Institute for Healthcare Improvement in Cambridge, Mass., he worked with doctors and nurses to upgrade care at hundreds of hospitals from Contra Costa County, Calif., to Green Bay, Wis., to Florence, S.C. - and from Britain to Sweden to South Africa.

He led efforts to reduce medical errors, eliminate hospital-acquired infections, standardize treatments and cut waste. One of his students, Dr. John S. Toussaint, former president of ThedaCare in Appleton, Wis., said his hospital had reduced the cost of inpatient care by about 25 percent, "using principles of continuous improvement espoused by Dr. Berwick."

But two weeks after taking office, Dr. Berwick is still struggling to tamp down a furor over past statements in which he discussed the rationing of health care and expressed affection for the British health care system. And he is finding his ability to do his job clouded by the circumstances of his appointment, with many Republicans in open revolt over President Obama's decision to place him in the post without a Senate confirmation vote.

Pear noted that the White House hasn't made Berwick available to interview, "But friends and allies said he was preparing a point-by-point rebuttal, most likely to be delivered when he first testifies before Congress."

Pear did relay concerns from Sen. Orrin Hatch and three other Republican congressmen criticizing both Berwick and the Obama administration's questionable bypass of Senate confirmation. Hatch: "Dr. Berwick has a great reputation as a pediatrician, but he's made some of the most outlandish statements I've heard in years. The Democrats' decision not to go through the regular confirmation process, when they have 59 votes in the Senate, shows they are afraid of his philosophy being displayed to the public."

Pear also found Obama's defenders: "Reid H. Cherlin, a White House spokesman, said the critics were harping on 'a handful of cherry-picked quotes.'"

Pear did some "cherry-picking" of his own - on Berwick's behalf. Pear quoted Berwick saying "I am romantic about the National Health Service; I love it" in 2008, but not his harder-edged statements from that same conference, which CNSNews.com editor Terry Jeffrey unearthed back in May:


"Please, don't put your faith in market forces," and urged them "I hope you will never, ever give up on what you have begun" and rallied the crowd: "I hope you realize and affirm how badly you need-how badly the world needs-an example at scale of a health care system that is universal, accessible, excellent and free at the point of care-a health system that, at its core is like the world we wish we had: generous, hopeful, confident, joyous and just."

After quoting some of Berwick's paeans to Britain's NHS (which just announced some surprisingly drastic decentralization in the name of cost-cutting), Pear closed by allowing Berwick "a limited hangout" by admitting it had flaws:
Britain is good at providing primary and community care, he said, but the United States is often better at "rescue care," including complex cardiac surgery and advanced chemotherapy.
- Clay Waters is editor of Times Watch. You can follow him on Twitter.