Dancing With the Stars Pulls Big Switch in Week 4 With New Celebrity-Partner Pairings
Guest judge Julianne Hough stays clear of controversy
Published: 4/8/2014 11:49 AM ET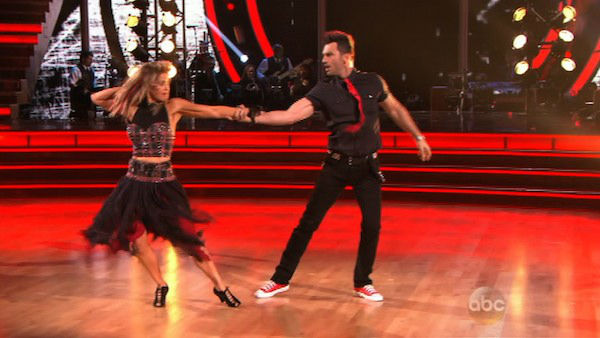 For fans of ABC's Dancing With the Stars, last night's Week 4 episode was an exciting one. For the first time in the history of the show, viewers were able to vote to pair the celebrities with different ballroom dance partners for one week of training and competition. While celebrities will return to their original partners next week, they still had to make it count since one pair will be going home next week based on this week's scores and next week's scores combined.
Viewers had no mercy for Candace Cameron Bure. While a fan favorite, she was ironically paired with professional partner Tony Dovolani, the one person she had mentioned in her package she didn't want to be paired with.

"I love Tony, but every time I see Tony, he cracks a joke and makes me blush," she said.

But the duo seemed to get along famously, dancing an upbeat quickstep routine to the song "Ballroom Blitz," which judge Len Goodman called "hair-raising". Their scores weren't stellar, however, as they received only a 7 from each judge.
Candace's professional partner Mark Ballas was paired with actress Amy Purdy, who, despite having two prosthetic legs, has wowed the judges and audience every week with her routines packed with challenging footwork. The two performed a salsa dance and received a combined score of 34 out of 40.

Adding to the buzz, Julianne Hough, a former ballroom dancer on the show who has now launched her own singing and acting career, served as a guest judge this week. She caused some controversy last season with a somewhat snarky comment regarding dancer Mark Ballas constantly overshadowing his celebrity partners. But tonight, she had high praise for both, telling Amy she was more than an inspirational person, calling her "fierce". "Now for Mark..." she said jokingly, as viewers were waiting to see if more controversy would brew. Instead, she gave her approval, saying that it takes vulnerability to be in a partnership, and with vulnerability comes strength.

Tune in to ABC next Monday night at 8 pm EST to see who makes it through to the next round!