10 Porniest Fall Flicks: Hollywood's Sleazy Season Opens
Tinsel Town's creative imagination runs the gamut from sex to … sex.
Published: 10/2/2013 9:01 AM ET

Joseph Gordon-Levitt's latest flick, "Don Jon," asks the question: Which type of movie gives viewers more unrealistic expectations: chick flicks or porn? The fact that "Don Jon" is one of the tamer, more mainstream offerings among this fall's movie crop goes to show, expectations aside, there's far less difference between porn and other genres than there used to be.
And we're in the middle of what may be the porniest movie season ever. Simply put, if graphic, seedy, dysfunctional sex doesn't sound like a fun night at the movies, there isn't much for you at the cinema right now. A spate of new Hollywood movies has sex as either the main focus or integral to the plot: sex with minors, porn addiction, sex addiction, graphic gay and lesbian sex – even necrophilia.
#1. "Don Jon": So yes, "Don Jon, due out September 27, may have a more mainstream appeal by starring Gordon-Levitt and Scarlett Johansson. Mainstream that is, for a flick whose pivotal scene occurs when co-star Johansson walks in on Gordon-Levitt's character as he masturbates.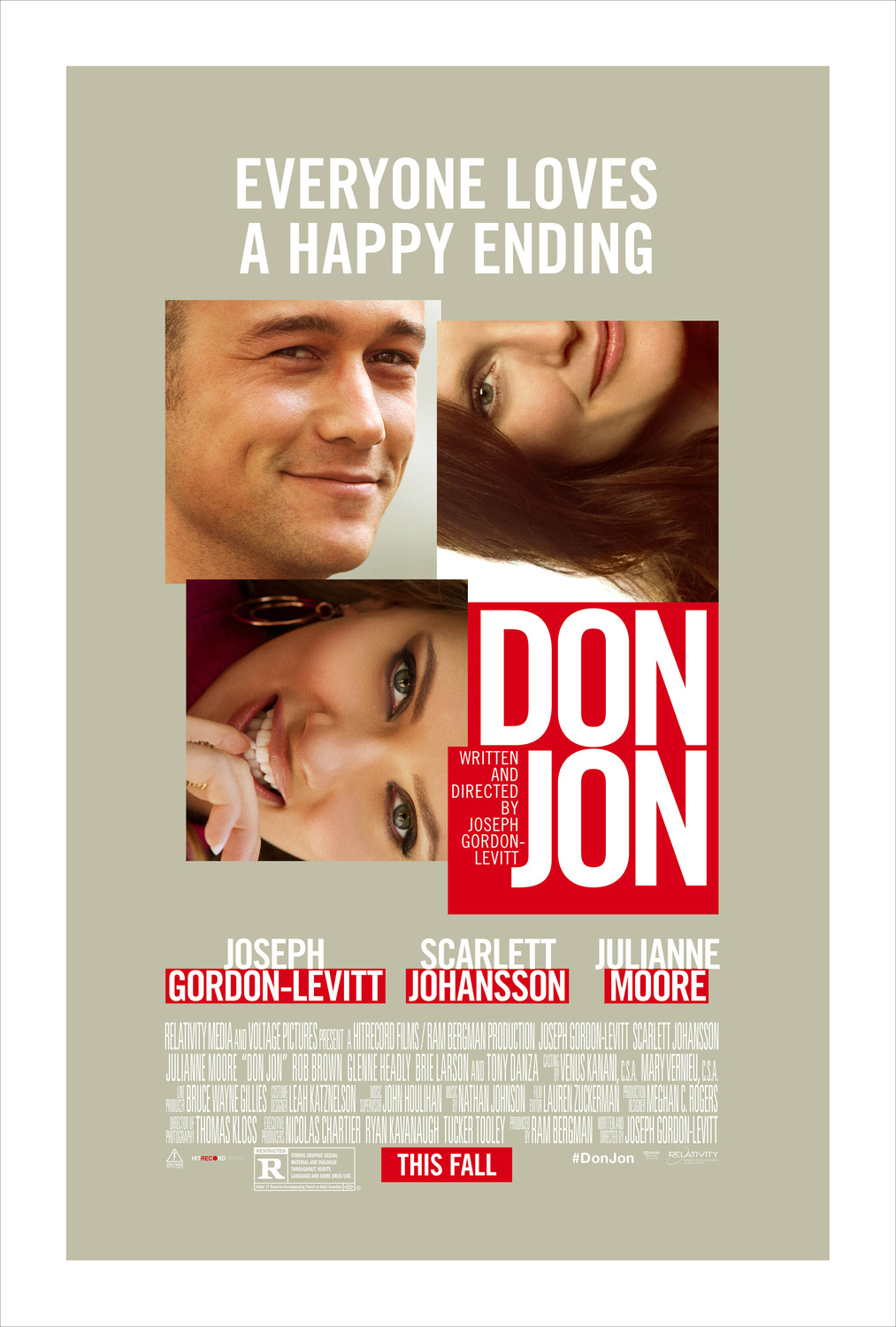 Gordon-Levitt plays Jon Martello, who introduces himself by saying, "There's only a few things I really care about in life. My body, my pad, my ride, my family, my church, my boys, my girls, and my porn."
"Porn's fine," Gordon-Levitt explained in a Daily News America interview. "I'm aware that it can be hateful toward women. It can be addictive. It can get ugly. But it's only damaging if you allow it to be."
As far as the film's purpose, Gordon-Levitt compared, "the idea of a guy, who watches too much pornography," to "a young woman, who watches too many romantic Hollywood movies" for "a hilarious way to ask the question: How do the different kinds of media we consume impact our lives and our love lives?"
# 2. "Blue Is The Warmest Color": Nobody would ever mistake another of the fall's movies as "hilarious." The French lesbian film, was earnest enough to win the Cannes Film Festival's Palme d'Or award and aims for an Oscar. The NC-17 movie – a nice way of describing porn – captures the story of 15-year-old Adèle (Adèle Exarchopoulos) who falls for blue-haired college student Emma (Léa Seydoux).
The film, advertised by Publisher's Weekly as an "elegantly impassioned love story," features a 10 minute graphic sex scene that required 10 days of shooting in the nude with prosthetics. (And hey, what's not to like about indulging in one day to perfect a minute?) But then, Exarchopoulos and Seydoux delved into their roles from the beginning, masturbating each other their first day of acting together.
(One thing the critics won't say amidst their praise: while Adèle meets the age of consent in France, her relationship in the Unites States constitutes as statutory rape.)
Besides the sex, Director Abdellatif Kechiche forced Seydoux to punch her co-star. In the process, Exarchopoulos began crying and bleeding "everywhere." Seydoux tried unsuccessfully to comfort her, Exarchopoulous explained, for when "she tried to stop my nose from running and [Kechiche] screamed, "No! Kiss her! Lick her snot!"
Despite their instantaneous fame, 28-year-old Seydoux and 19-year-old Exarchopoulos bashed Kechiche for feeling "trapped" in their roles as well as "embarrassed" and "ashamed."
Seydoux told the Daily Beast, "Well, thank god we won the Palme d'Or, because it was so horrible. So now it's cool that everyone likes the film and it's a big success." But the film wasn't all bad, as Exarchopoulos explained to The Star: "It's about love, first love, and everything that comes into it. It's a love story, but afterwards if we could change things in the mentality of people, that would be so cool."
#3. "Child of God": Maybe James Franco is trying to change things in the mentality of people about necrophilia – or sex with dead people – with "Child of God," which premiers on September 29.
Based on Cormac McCarthy's 1973 novel,"Child of God" follows Southerner Lester Ballard (Scott Haze) during his mad conquests of necrophilia and murder – or, as the teaser described "a child of God, much like yourself perhaps."
Franco told the Daily Beast how Ballard "date[s] with one of these bodies, and the motions that he goes through aren't any different from any romantic comedy, but he's animating both sides of the relationship with his imagination." Franco called the film a "character study," something "that's fascinating, and it's a way to do what movies should do—talk about the human condition."
"It's a little strange to admit but there's something about necrophilia — I don't want to sound like a weirdo — but the art was very interesting to me," Franco told USA Today. He later admitted, "I know I chose a difficult subject, but I want people to like it. I don't want to push the audience away."
What's not to like, even if Franco left out the minute details, such when Ballard encounters a dead couple in a car and, after buying a "first date" outfit, "wildly raped" the woman – or how he later scampers off to kill the new owner of his house while wearing a victim's scalp and lipstick.
Franco perfected his necrophilia filming while directing a similar project during his time at NYU.
But, hey, that didn't bug Hollywood, which has a thing for Franco's antics, beginning this year with "Spring Breakers," when Franco's drug dealer persona joined in on a threesome.
# 4. "Palo Alto": That's not even the end of Franco for this fall. Starring in Gia Coppola's "Palo Alto," Franco transforms into a soccer coach and proves age discrepancy isn't just a French obsession by seducing high-school student April, played by Emma Roberts. In the film, based on a book penned by Franco, he explains to April, "I'm older and I know that there aren't a lot of good things around. And I know that you are really good." Creepy.
#5. "A Teacher": Hollywood is nothing if not an equal opportunity sleaze peddler. So "A Teacher" (September 6) reverses "Palo Alto's" gender roles as a high-school teacher sleeps with her male student.
#6. "Adore," with its beautiful sea-side scenery, offers a respite from Hollywood's terror – until bikini-clad Robin Wright and Naomi Watts strut through the pseudo-incest plot. Childhood best friends Roz (Wright) Lil (Watts) sleep with each other's sons in Anna Fontaine's film, which also hit theaters September 6. The "love" story explodes when Lil's son Ian sleeps with Roz, and the Roz's son Tom retaliates by sleeping with Lil.
The characters couldn't express more pleasure at the situation with Lil admitting, "I don't want to stop. I don't see why we have to," because "I can't remember being this happy." Roz acknowledged, "I know."
Their surfer sons show no remorse either when Ian stands up from the table on the porch and Roz asks, "Where are you going?" Ian responds, "To your room," as Tom proposes to Lil, "See you at yours."
#7. "Afternoon Delight" features another mom behaving badly. In theaters August 30, it tells the story of a stay-at-home mom, Rachel (Kathryn Hahn), who drags her husband (Jeff Radnor) to the strip club in an effort to "fix" their sex life when a friend suggests, "You ever been to a strip club? We go there, we get all hot, and then we bang each other when we get home." The perfect romantic evening, of course.
After a lap dance from a young stripper (Juno Temple), Rachel, later in the movie, offers the 19-year-old a home and nanny job in an effort to "save" her – or perhaps, live vicariously.
#8. "Concussion" offers more women obsession as a character transforms from lesbian housewife to hooker via a concussion. Robin Weigert, playing the key role, explained the film's meaning: "It's like – a little bit like – there's an inner hooker in everyone," such as "In terms of when you want to stray or when your eyes wandering because your marriage is no longer satisfying." She asked, "You're committing that act in some form, aren't you?" Or, in other words the world is one giant strip club.
Revealing some of the film's content, Weigert detailed, "I've never played a character who had sex on screen I don't think before this." She continued, "It was really new territory for me in that sense, and there would be a lot of it." Nothing like on-the-job training.
#9. "Kill Your Darlings" From lesbians to gays. October 16's "Kill Your Darlings" which stars Daniel Radcliffe (perhaps better known by Harry Potter) as American "Beat" poet Allen Ginsberg as a young college student. The camera not only shows Ginsberg as he masturbates, but also as he hooks up with an older guy as he meets at a bar.
No big deal to Harry Potter. Radcliffe explained to MTV, ""For me, there's something very strange about that because we see straight sex scenes all the time. We've seen gay sex scenes before. I don't know why a gay sex scene should be any more shocking than a straight sex scene. Or both of them are equally un-shocking."
#10. "Thanks For Sharing": A feel-good romantic comedy about sex addiction? "Thanks for Sharing," in theaters Sept. 20, follows recovering sex addicts as they share struggles with a 12-step group – and stars big names Mark Ruffalo and Gwyneth Paltrow.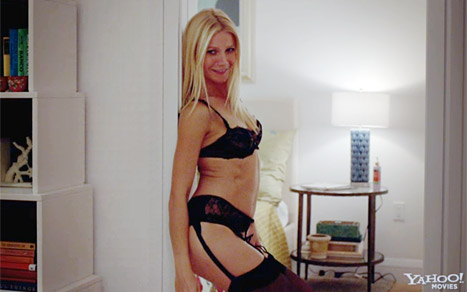 So this fall, Hollywood's given free reign to its chief obsession. Whether it's dolled up as "art" like "Blue is the Warmest Color" or aiming for a cheap, feel-good laugh like "Don Jon," Tinsel Town's lack of creative imagination makes it seem like writers, producers and directors have no choice but to return to sex again and again. Luckily, audiences do have a choice.