Forgot to Cover Don Fowler's Amnesia
CIA Finagling of Haley Barbour's DNC Counterpart Ignored by ABC, All Three Morning Shows
Published: 9/10/1997 12:00 AM ET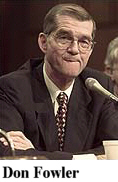 Republican National Committee Chairman Haley Barbour's July 24 appearance before the Senate Governmental Affairs Committee drew the most TV news coverage of the July sessions, with the exception of the hearings' first day. But when Barbour's counterpart, Don Fowler, Chairman of the Democratic National Committee, testified yesterday, he was ignored by most network shows. Fowler said he had no memory of assisting questionable donors like Lebanese oilman Roger Tamraz into White House events by defying the National Security Council, even using secret CIA intelligence information to win Tamraz an invitation.
MSNBC, which carried Barbour live all afternoon, aired nothing except brief updates yesterday. CNN, which promised during its afternoon of live Barbour testimony that it would also air testimony of Fowler, aired only 90 minutes of coverage before skipping out at 11:40 AM Eastern time. Other networks also did less:
Evening news, September 9:
On July 25, Linda Douglass and ABC's World News Tonight used Barbour's testimony to suggest "both parties were so consumed by money, laws were bent if not broken." Last night, they completely ignored the DNC Chairman in favor of noting Sen. Fred Thompson has so far failed to connect the Chinese government to the Clinton campaign, and is now backing down (see box).
CBS Evening News noted the discrepancy between Fowler's memory and documentary evidence. But reporter Bob Schieffer's story concluded: "Democrats offered no real defense of Fowler's action, but did manage to show that even after all the bad publicity, Tamraz got a written invitation from Republican Senator Trent Lott inviting him to join a Republican fundraising group. Lott called it a mix-up and was trying to figure out how it happened." Schieffer made Lott's letter sound like a rare personal invitation. But as CNN's Brooks Jackson explained on Inside Politics, the "written invitation" was a direct-mail appeal sent to over 100,000 people.
On NBC Nightly News, Lisa Myers aired the toughest story, with a montage of Fowler's assertions of amnesia, and details of Fowler's run-ins with the NSC and the CIA. She concluded: "So, how did Tamraz get into the White House when the President's national security team thought they had him banned. Well, believe it or not, the White House says anyone Democratic fundraisers put on the list to see the President got in. No questions asked."
CNN's The World Today carried an anchor brief by Joie Chen, followed by almost three minutes of testimony clips.
Morning news, September 10:
CBS This Morning aired absolutely nothing about politics, but they also ignored Barbour on July 25.
ABC's Good Morning America avoided Fowler. On July 25, Cokie Roberts was interviewed about Barbour.
On the July 25 Today, NBC's Sara James interviewed Tim Russert about Barbour, even running video of Barbour's errors from Meet the Press. This morning, Today had no time for Fowler, but did interview a Wheel of Fortune contestant who failed to recall Today co-host Matt Lauer's name. - Tim Graham and Brent Baker