Viewing Cultural Collapse at Cannes
Published: 6/1/2013 8:06 AM ET

Stop the presses! Decadence dominated the publicity oozing out of the Cannes Film Festival in France. The festival's highest honor, the Palme d'Or (or Golden Palm) went to "Blue Is the Warmest Color," which drew most of its buzz from an explicit ten-minute lesbian sex scene.
This, apparently, was art, not pornography. The Cannes jury headed by Steven Spielberg took the unprecedented step of insisting that the movie's two stars be included as Palme award recipients. New York magazine's Vulture blog cooed these awards were the festival's "Most Pleasant Progressive Surprise."
In a review, Jada Yuan at Vulture reported that heavy buzz surrounded "the intensely erotic, incredibly realistic, quite lengthy, and almost certainly unsimulated sex scenes" by actresses Adele Exarchopoulos and Lea Seydoux. She timed one scene at ten minutes and reported "walkouts began around minute nine. That turned into spontaneous applause (and relieved laughter), when the women climaxed and finished a minute later."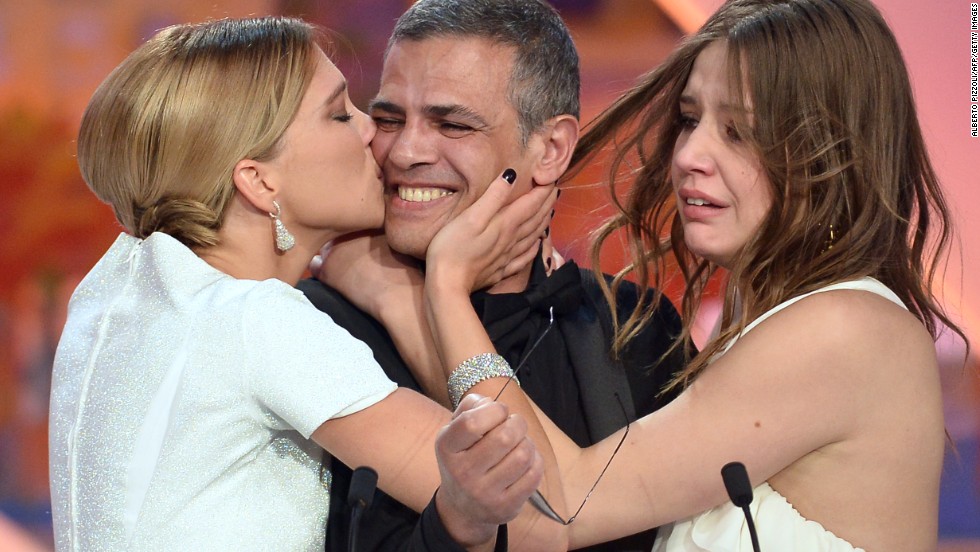 Richard Porton of The Daily Beast saw the Cannes honors as a wonderful contrast with right-wingers and Catholics protesting a new gay marriage law in the Paris streets. "For much of the media, this odd juxtaposition of right-wing venom toward gay marriage and cinephilic celebration of same-sex passion exemplifies the split in contemporary France between a liberal, secular majority and a retrograde minority opposed to redefining an institution they consider sacred."
As often happens, allegedly artistic judgments about cinematic achievements are strongly seasoned by the secular-left politics of moviemakers and their constant desire to "push the envelope" and banish the "retrograde." At least the allegedly venomous right-wingers can enjoy how the leftists fight among themselves, cinephilically, of course.
Porton was troubled that so many female critics like Manohla Dargis of The New York Times were unhappy with the honors for "Blue" because its sex scenes made it a "voyeuristic exercise." Porton didn't want the film's fans to be dismissed as a perverted male "raincoat brigade" at the porno house. One woman told Porton in explicit, but metaphorical terms that she could see the male director's privates on the screen.
This prompted Porton to add the detail that the woman might have confused "Blue" with Amat Escalante's film "Heli," which boasted "a now-notorious 'penis on fire' torture scene...To almost everyone's surprise, Escalante won the Best Director prize."
The biggest loser in this filth festival was reported to be Michael Douglas, who won no acting award for playing Liberace in the film "Behind the Candelabra," which is airing only on HBO in America, but is appearing on movie screens in jaded Europe.
This movie also has explicit gay sex scenes, between Douglas and actor Matt Damon, who plays his much younger lover and chauffeur Scott Thorson. Mike Hale of The New York Times related the sex scenes were the movie's lightest moments: "A scene in which Thorson, in the midst of enthusiastic intercourse, demurely turns down the amyl nitrate popper Liberace tries to force on him is a comic high point."
Perhaps "Candelabra" was skipped over because it presents Liberace in harsh terms. In a movie review for Variety, critic Peter Debruge described it as "a sort of worst-case version of predatory homosexuality, in which an older man of means identifies, seduces and eventually tosses aside a naive, cornfed young country stud." He wrote it was the polar opposite of the "hagiographic whitewash" of Sean Penn playing the murdered gay politician Harvey Milk in 2008.
Debruge also pointed out that casting 42-year-old Damon as Liberace's young conquest was a bizarre casting choice, since "Historically speaking, Thorson was just 16 when he met Liberace." Debruge wishes a much younger actor has been given a chance for a breakout performance. Justin Bieber, perhaps?
Others can certainly wish HBO and director Steven Soderbergh hadn't visually avoided the reality that Liberace was seeking out children for not just sexual domination, but complete personal manipulation. HBO's online synopsis only calls Thorson a "handsome young stranger." (In the film, this misleading effect is doubled when Damon replaces the previous "boy toy," played by Cheyenne Jackson, who's actually 37.)
Liberace's relationship with Thorson was sick, insisting he go on a "diet" that included cocaine and forcing him into getting plastic surgery, including a chin implant, so he would look more like... Liberace. Despite this film's depressing subject matter, most TV critics raved about it, which may have boosted the ratings, which with 2.4 million viewers was HBO's best original movie success since 2004.
It's all about getting on that Hollywood "A" list. A producer friend of mine once explained how to attain that top shelf status: "Make a lot of money, lose a lot of money, or cause a lot of controversy." Douglas and Damon are now the darlings of Sodom and Gomorrah, 90210.