NBC's Brian Williams: 'Unmitigated Joy' Over Daughter's Graphic TV Sex Scenes
Published: 5/4/2012 3:44 PM ET

NBC anchor Brian Williams likes skin, and doesn't seem to care whose. He once gushed over a shirtless President Obama. Now, he's enthusiastic about his own daughter, Allison Williams taking it off (to put it politely) for the public. In a recent interview Williams said he felt "unmitigated joy" about watching his daughter's graphic sex scenes in Lena Dunham's new show "Girls."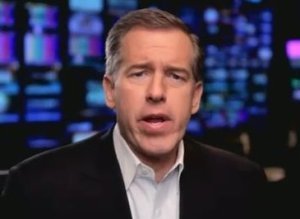 In the bleak, amoral world of "Girls," Allison's character Marnie is the epitome of first-world entitlement, whining to fellow character Hannah (played by Dunham) about how "respectful" her own boyfriend is, while Hannah is emotionally and physically used by her BDSM-loving sex buddy Adam.
In the second episode of "Girls" Marnie planned an abortion for might-be-pregnant character Jessa. So casual were the friends about the taking of human life treated ending human life that they even brought snacks to celebrate the occasion.
When Jessa failed to show up, Marnie was aghast, commenting, "Can you imagine anything more disrespectful than not showing up to your own abortion?" Shoshanna, the reluctant virgin of the bunch, comforts her saying, "You threw a really good abortion."
Dad's joy pride must have really shone when his daughter starred in her very own masturbation scene in "Girls" third episode. Allison's character headed to a bathroom to pleasure herself after a headstrong young artist tolds her he would f*ck her in the future
Holidays with the Williamses must be a real Norman Rockwell painting.